Thursday, May 31, 2007
Shhhhhh! Be vewy, vewy quiet!
Real danger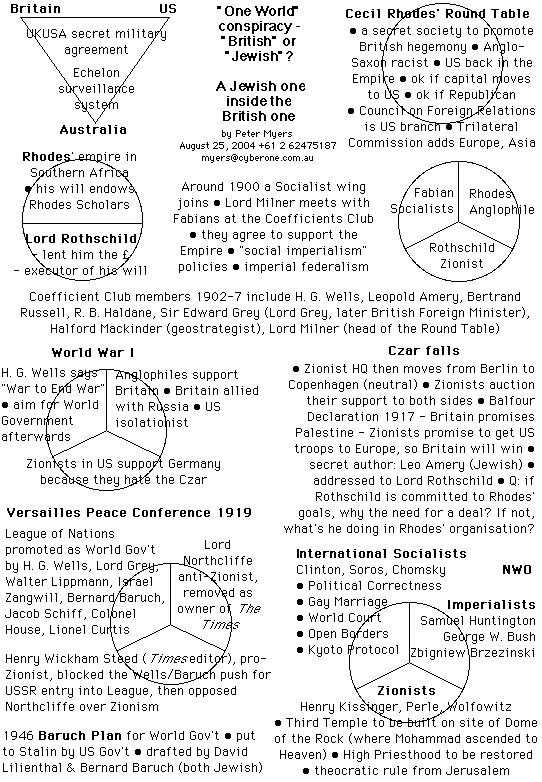 An
interesting Op-ed piece
in the Eureka Reporter by one Pete
Mateu
criticizing conspiracy theories. I don't disagree with his larger point, but I do take issue with a few particulars.
First, he argues that conspiracy theories are "comforting" so as to avoid thinking about what he terms "real danger." I'm not sure I'd take that line of argument. There's nothing "comforting" about the perception that we are living in a fascist police state with the veneer of democracy in which there is a vast power structure used to kill off thousands of innocents in order to obtain a political advantage. If anything, I'd say that conspiracy theorists prefer to wallow in fear. Some of them find it
exhilarating
.
And actually I'd love to believe that the attacks could have been carried out by "
just a dozen, hate-filled religious fanatics," but I think it's pretty clear that they required a network of many more people and a certain level of organization. While it may not have been part of a grand conspiracy by the powers that be, it wasn't a random event either. I'd feel much more comfortable if it was.

I'm also not certain as to his linking conspiracy theories to

utopianism

. I'd say they are much more fixated on

dystopianism

.

Mr.

Mateu

then reveals some partisanship:

And why has no one leaked information to The New York Times? And, most of all, why have none of his political enemies (Democratic legislators, the ACLU, CNN News, George

Soros

, Al Gore, Amy Goodman [National Public Radio "Hypocrisy Now"], Nancy

Pelosi

or Al

Franken

) charged Bush with high crimes and begun impeachment?
CNN News in league with the ACLU? Who knew?

And actually, some of the people on the list have accused the president of crimes and have called for impeachment - just not for faking a terrorist attack.

Lastly, Democracy Now is affiliated with

Pacifica

, not NPR.

Meanwhile, lest Mr.

Mateu

truly believes the right wing is immune to conspiracy theories, the diagram includes a reference to

Soros

, among others. I think he is thought of far more often by right wingers than the left he is supposedly puppet-stringing. The diagram even links gay marriage and "political correctness" to the secret one-world government.

Diagram source. Click on the diagram to enlarge and again to clarify.

Mckee in trial
Wednesday, May 30, 2007
Yet another Humboldt blog
All but three Democratic Party candidates are boycotting Fox News
Tuesday, May 29, 2007
Cindy Sheehan throws in the towel
My son lost his two front teeth
Controversial show on KMUD tonight
Monday, May 28, 2007
A new Sohum blog
Sunday, May 27, 2007
Time for a Salzman come-back?
Mateel Summer Arts Festival next weekend
Saturday, May 26, 2007
A year
Vegetarian dinosaurs in the Garden of Eden
Some early Kinetic Sculpture Race photos
Friday, May 25, 2007
Spring colors in Sohum
The blog's first anniversary
See? I didn't blog about it.
Thursday, May 24, 2007
SF police ignoring Tom Ammiano's marijuana priority reduction ordinance
More dead horse smacks
Iraq war voter pledge in circulation
Wednesday, May 23, 2007
Guns and liberals
Tuesday, May 22, 2007
More to do this weekend
Big KMUD weekend
Humboldt Bay District squabbles
Monday, May 21, 2007
On being hip
Press Democrat coverage of the Reggae on the River demise
Wars and rumors of wars
Soy abuse
Sunday, May 20, 2007
Over 50 thousand plants taken
Cleaning up Eureka
Saturday, May 19, 2007
For the Michael Moore bashers
Friday, May 18, 2007
Coastal characters
Thursday, May 17, 2007
A fun radio show tonight
Name change at the NCJ?
Jim Wallis on Jerry Falwell
Judge Neville's case comes to trial
Input thread regarding the format
Well, yeah. Whatever.
Wednesday, May 16, 2007
The Wet Mon returns!
Gallegos wants guns
100 thousand "visits"
Tuesday, May 15, 2007
Mumia Abu Jamal's case coming to a head
Reggae on the River no more
It's the little quirks
Did anybody see the "strange thing" at the circus last night?
Monday, May 14, 2007
Aspiring to chimphood
Pope Benedict loses it in Brazil
Sex and ethnicity in chess and academics